Shirt-Cocking, –verb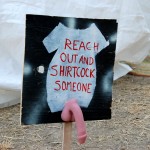 Shirt-cocking is when a man wears a t-shirt but but goes naked from the waist down. This practice is a natural outgrowth of Burning Man events which value "radical self-expression" but are held in clothing optional environments. Shirt-cocking has become one of the few genuine fashion faux pas in a community that otherwise turns a blind-eye (or a downright appreciative one) on all kinds of egregious peacock-like displays of one's ability to combine neon colours and fun fur in new ways.
The potential offensiveness of a female counterpart to this behaviour is still in question. When done by a woman, it is called Shirt Boxing or Daisy Ducking.
From Kit O'Connell's amazing Burner Lexicon! http://kitoconnell.com/writing/lexicon
________________________
Blues Bob (on the Burning Man FB page):
I've worn size 9 shoes for years. I brought two pair of Hi-Tops with me to BM 2010, but I went barefoot just about everyday. I wore the shoes mainly at night. By the end of the week my feet had swollen, and the shoes were really getting tight. I came home and doctored my feet. The swelling went away. But for some reason all
my size 9 shoes no longer fit. Over the next year I had to replace everything I owned with size 9 1/2.
In 2011, I brought several hats with me to BM. They were all 7 1/4. They fit fine before I left for the playa, and for most of the week while I was there. But toward the end they felt tight also. I returned home and continued to try them on throughout the year, but they have never fit well since. Last week I gave the hats to one of my nieces and bought a new one. It seems I now my head size is somewhere between a 7 3/8 to 7 1/2.
Why am I telling you all this? Because I want all my friends to know why I'll be shirtcocking frequently this year.